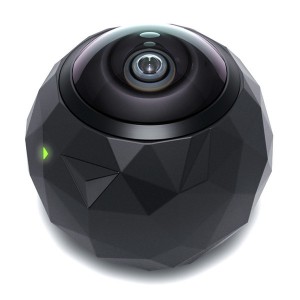 There are many action cameras out there that have tried to topple GoPro's dominance, maybe, just maybe the 360fly camera will take the crown with its rugged golf ball shape and 360 degree field of view. While the GoPro's 180 degree field of view is impressive , imagine how impressive a 360 degree action camera would be. There have many attempts at making a 360 degree field of view video cameras but most of them use the kludgy method of shooting into a curved mirror, most notably the Kogeto DOT for iPhone. The 360fly is different in that it uses an ultra wide angle fish eye lens to capture a 240 degree field of view, while it's not truly a 360 degree camera in all axes, it can capture a true 360 degree horizontal panoramic FOV for an immersive viewer experience.
The 360fly holds its own as just an action camera; it's waterproof, shock resistant and small enough to mount just about anywhere. It comes with flat and curved swivel mounts and it looks cool with its black Darth Vader meets Bucky Fuller design. The camera charges via USB and has both Wi-Fi and Bluetooth, and it's controlled by a smartphone app. The smartphone app acts as a viewfinder, remote control and as a viewer for the completed panoramic videos, although you don't need a phone just to start and stop the camera's recorder. Apparently the camera has a 1504 X 1504 pixel square sensor although it's not exactly clear as to what the resolution of the "unwrapped" video is.
The skeptics may wonder just what the use case for the camera is and if having to use a proprietary viewer is going to take away from the appeal of the camera. We think that the camera has the potential to revolutionize the whole POV camera market just as the GoPro did. We are hoping that the camera will have a time-lapse mode and low-light performance better than a GoPro so that we could shoot meteor showers and whole sky nighttime time-lapses. We are also hoping that there will be an open source HTML5 viewer, so that the panoramic videos can be viewed in any Web browser. We are a bit concerned about the resolution and hope that if the camera takes-off that they will evolve the resolution toward 4K. But we are definitely excited about the product and can't wait to take it canyoneering and whitewater rafting in Utah. We only wish we knew who we have to kiss to get our hands on one for testing.
The 360fly is available for pre-order and promises to ship in Spring 2015. You can get more information and pre-order the camera at https://360fly.com/ Until you actually get the camera you can check out their demo video:

Meet 360fly from 360fly on Vimeo.