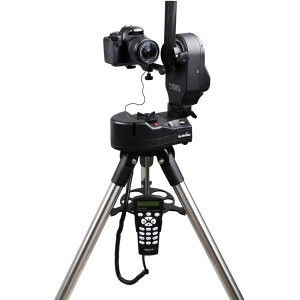 The Celestron/Skywatcher All-View multi-purpose mount gives photographers a robotic mount that can do a lot more than your typical telescope mount.  Not only is it a great mount for small to medium size telescopes up to 9 lbs (4 kg) with Go-To electronics will find any of 42,000 celestial objects  for traditional viewing or astrophotography, but it also allows you to do automatic panoramic and gigapixel photography, and even pan-tilt time-lapse photography. We'll take a quick look at some of the features of this mount to be followed with more in-depth tutorials in later posts.
The mount has basically two modes, one for astronomy where the mount is rotated outwards so  that a telescope has a full range of motion, and one for photography where the mount is rotated so that the included camera mount can be optically centered on the mount for perfect rotational movement for panoramas and time-lapses. Perhaps the most exciting feature for time-lapse photographers, is that the All-View can do automatic pan and tilt movement, where you tell the mount where you would like to begin and end the movement and then tell it the duration and how many exposures you would like, and the mount takes care of the rest. The mount even includes a electronic shutter release cable for Canon DSLRs. It took a little bit of searching, but I was even able to find a cable from the Dynamic Perception website that works with my Panasonic GH series cameras. Here is a time-lapse that I shot that shows the pan-tilt time-lapse movement of the mount.

Pan and tilt timelapse from Jay Shaffer on Vimeo.
the mount is only capable of linear movement from point A to point B with the included software. However, there is the Chronomotion software hack that promises to add muti-keyframe bezier movement to this mount. Although unfortunately, I haven't been able to get it to work with my Mac yet.
Besides the time-lapse mode, there are also modes for video slewing (great for repeatable motion control shots), and for automatic 360 degree panoramas and even a mode for Giga-pixel (Giga-pan) photography.

The All-View mount comes with a heavy-duty (read, heavy) stainless steel tripod, but you can use the mount on any standard 3/8′ screw video or photo tripod. You can power the mount using an external 12V power source or it can be powered internally with ten, yes TEN! AA batteries. The All-View is available at Amazon for around $360.