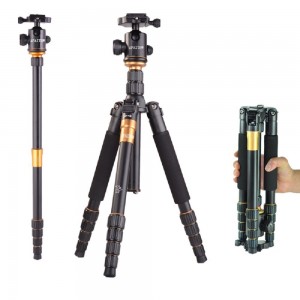 The Q-666C carbon fiber convertible tripod is sold under several brand names including Beike and Afaith on Amazon or ebay. This tripod is an inexpensive alternative to some other higher priced carbon fiber ultra-lightweight travel tripods on the market. For shooting time-lapses in remote locations where you have to pack in your gear, a carbon fiber tripod is on my essentials list. Some of the features I like in this tripod are:
Lightweight and Compact easily fits in a backpack or carry-on bag
Converts to a monopod/ walking pole
Extends to almost 6 feet
Has twist-lock leg locks
Includes a three-way ball head
At around $150 I can destroy several for the price of a name-brand carbon fiber tripod
The only thing that I am a little disappointed with is that the ball head is rather heavy. When you are backpacking every ounce counts, so when I'm backpacking,  I use a lighter weight Giottos brand ball head. Also, if you are not careful with the included ball head's Arca Swiss compatible quick release plate, you can inadvertently loosen the quick release screw and possibly drop your camera.
Check out my video review below: